Documentary 2022.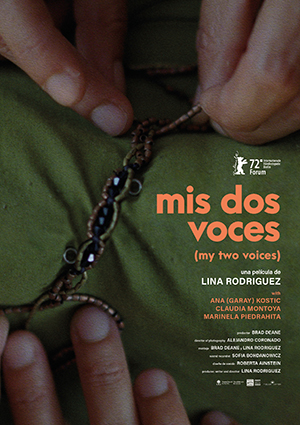 CREW
Canada. 2020. 68 minutes. Super 16mm on DCP Color, 1.66
Producer, writer, director Lina Rodríguez
Producer Brad Deane
Director of Photography Alejandro Coronado
Editors Lina Rodríguez, Brad Deane
Sound Recordist Sofia Bohdanowicz
Sound Designer Roberta Ainstein
Production Designer Lina Rodríguez
Camera assistants Angela Saviñon, Felipe López Gómez
Dialogue editing/re-recording mixer Lucas Meyer
Re-recording mixer Lucas Prokaziuk
Translation Alvaro Girón
Designer Craig Caron
Online editor Mac Pepler
Processing & transfer MELS
16mm film Kodak
Theatrical imaging Technicolor Toronto
With support from Michèle Maheux, Toronto Film Critics Association as part of the Technicolor Clyde Gilmour Awar.
FESTIVALS
Berlin International Film Festival – Forum, 2022
Germany
Art of the Real (Opening Night Film) – Film at Lincoln Center, 2022
U.S.A.
Ficunam International Film Festival, 2022
Mexico
Hot Docs Canadian International Documentary Festival, 2022
Canada
Frames of Representation – ICA, 2022
United Kingdom
DOXA Documentary Film Festival, 2022
Canada
Los Angeles Latino International Film Festival, 2022
U.S.A.
Gimli International Film Festival, 2022
Canada